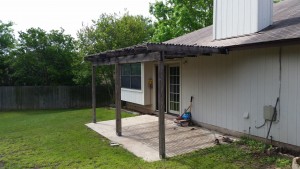 Attached Porch Awning Northwest San Antonio
Attached Porch Awning Northwest San Antonio Pictured here you see an 11 foot by 8 foot attached home awning. At the customer's request we removed the pre-existing wooden awning and replaced it with a ccustom all steel awning. We went from 3 posts to 2 posts which looks less cluttered and more attractive to the home. the posts are set 24 inches deep in concrete and the awning is painted to customer specifications.
Are you looking for a high quality yet affordable awning?  You have come to the right place! I have been building custom awnings, carports & patio covers in San Antonio and surrounding areas for over 20 years. I have the experience and knowledge to get it done right. Low overhead (home based business) and my long relationship with steel and panel providers in San Antonio, make it very difficult for others to compete with my quality and prices. Don't throw away money on one of those aluminum awnings that blow away in the first good wind.  Invest in something that is cost effective, and will more than likely last as long as you own your home or property.
No one in San Antonio can provide the same quality, design assistance and professionalism that I can bring to your home or business. I am the designer and builder on each and every project seroquel 200 mg.  A quality carport, awning or patio cover will provide many years of shade and protection if designed and installed correctly. Get it done right and the first time, call me today.