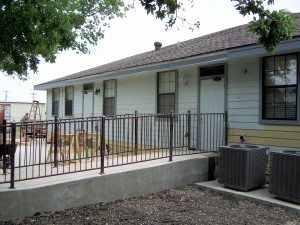 Commercial Steel Awning New Braunfels, Texas
Commercial Steel Awning New Braunfels, Texas
Commercial Steel Awning New Braunfels, Texas
Commercial Steel Awning New Braunfels, Texas  Custom all steel awning, unpainted  requested by New Braunfels commercial business.  Awning was requested to be built 36'x8'.  The two outside posts were concreted into the ground, the center post was anchored to the existing concrete.  Awning frame was left unpainted at the request of the customer.
If you see something you like, then look no further! I have been building custom awnings, carports & patio covers in San Antonio and surrounding areas for over 20 years. I have the experience and knowledge to get it done right. Low overhead (home based business) and my long relationship with steel and panel providers in San Antonio, make it very difficult for others to compete with my quality and prices.
Our designs incorporate low maintenance, long-lasting materials and are hand-crafted to add class, elegance and sophistication to any setting.  Our carports, patio covers, awnings and other structures are an easy, affordable way to make a statement to your home or business.
No one in San Antonio can provide the same quality, design assistance and professionalism that I can bring to your home or business. I am the designer and builder on each and every project.  A quality carport, awning or patio cover will provide many years of shade and protection if designed and installed correctly. Get it done right and the first time, call me today.
Be sure to take a look at my other work, we can come up with unique design and product to fit your needs!