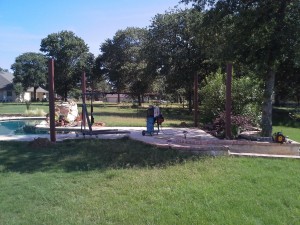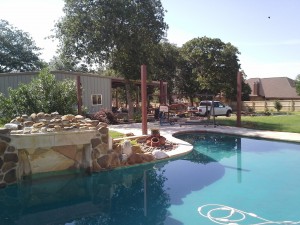 Custom Free Standing Awning Over Swimming Pool La Vernia, Texas
Custom Free Standing Awning Over Swimming Pool La Vernia, Texas 18'x18' free standing awning was requested by customer to be built over one end of their swimming pool to provide shade and provide luxurious shade for enjoyment in the summer heat.
All four posts were set in concrete, 24" deep.  The awning was painted to customer's specifications.  Electrical wiring was ran internally through the rectangle tubing inside the structure so that it would remain hidden.  It provides power for the outdoor fans we added to the structure.
Are you looking for a high quality yet affordable awning?  You have come to the right place! I have been building custom awnings, carports & patio covers in San Antonio and surrounding areas for over 20 years. I have the experience and knowledge to get it done right. Low overhead (home based business) and my long relationship with steel and panel providers in San Antonio, make it very difficult for others to compete with my quality and prices. Don't throw away money on one of those aluminum awnings that blow away in the first good wind.  Invest in something that is cost effective, and will more than likely last as long as you own your home or property.
No one in San Antonio can provide the same quality, design assistance and professionalism that I can bring to your home or business. I am the designer and builder on each and every project.  A quality carport, awning or patio cover will provide many years of shade and protection if designed and installed correctly. Get it done right and the first time, call me today.
Be sure to take a look at my other projects, we can come up with unique design and product to fit your needs!