Custom All Steel Pole Barn, Pipe Creek, Texas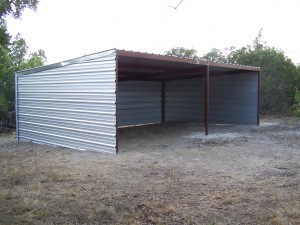 Custom All Steel Pole Barn, Pipe Creek, Texas
Custom All Steel Pole Barn, Pipe Creek, Texas This pole barn was built for the same customer as the all metal pavilion seen here.  It measures 30'x20'x9' and was framed with 3"x3"  14 g. square tubing.  An 8" purlin was used for the center beam, and 6" purlin was used for the rafters.  Each post was set into dug out rock 24 inches and sealed in concrete.  This ensures that the structure will stand firm in most storms and inclimate weather.  Three sides of the pole barn were enclosed, and along with the roof were covered in 26 gauge galvalume R-panels.
At RDW Construction, we have been designing and building carports, awnings, pavilions, decks and other steel structures for over 20 years locally. We take pride in matching our designs to the unique needs of our customers.  We offer a variety of sizes and shapes in all designs.  We also offer the exclusive option of designing your carport or any other structure with an alternative of later transforming it into a garage or storage shed. We feel confident that we can meet your needs and make your investment work for you.
Carports and metal buildings are our specialty. We are able offer competitive pricing and superior quality and products. If you have a design in mind we have a metal structure that you will love. When it comes to protecting your investments from the elements RDW Construction has you covered.
No one in San Antonio can provide the same quality, design assistance and professionalism that I can bring to your home or business. I am the designer and builder on each and every project.  A quality carport, awning or patio cover will provide many years of shade and protection if designed and installed correctly. Get it done right and the first time, call me today.
Be sure to take a look at my other work, we can come up with unique design and product to fit your needs!