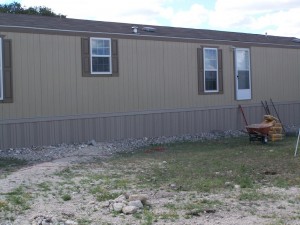 Ranch Trailer Patio Cover Deck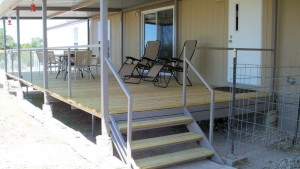 Ranch House Patio Cover Picture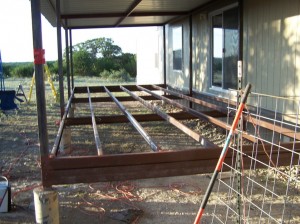 Ranch House Steel Patio Cover Deck And Stairs Junction Texas
Ranch House Steel Patio Cover Deck And Stairs Junction Texas
Ranch House Steel Patio Cover Deck And Stairs Junction Texas This Ranch Project included two patio covers, metal framed decks and metal framed steps.  Each post was buried 18" with dowels that were attached to the existing rock in the land.  12 inches of concrete was then poured into 32" sono tubes to stabilize all of the posts.  No matter the weather, it is unlikely that this deck and patio cover will go anywhere!
The first patio cover ran 32'x12' and has an "all-in-one" deck.  The second patio cover was 24'x12'  and also includes the steel framed deck.  Both have a custom steel staircase attached to the end.
This particular customer has this to say:
"Rodney and crew have done a couple of big jobs for me,(way out in the country). In both cases he did a great job, I plan to have him back to do more work. I highly recommend him, he is honest and trustworthy and does quality work. It's been awhile, but thanks Rodney."  W. Nelson
No one in the San Antonio area can provide the same quality, design assistance and professionalism that I can bring to your home or business. I am the designer and builder on each and every project. A quality carport, awning or patio cover will provide many years of shade and protection if designed and installed correctly. Get it done right and the first time, call me today.
Be sure to take a look at my other projects, we can come up with unique design and product to fit your needs!  Never worry about annoying phone calls and emails.  You can get your basic Pricing guide